The boot screen asks which display device you will be using.

<F1> will utilize the RGB monitor connector, giving the best looking display. The same connector also has composite video output, which won't be quite as nice as RGB, but better than the TV display.

<F2> will use the RF output, in the US it will be TV channel 3 or 4 (switch selectable), in the UK, channel 36.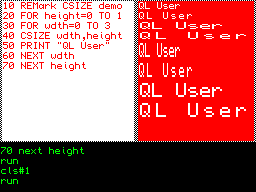 SuperBASIC has an interesting multi-window appearance, but only when using a monitor for your display device. When using the TV, the entire screen is used for input, output, and user I/O.

(This display is actually 80 characters wide, the text has been exaggerated here for your viewing pleasure)